Navigation Toolbar
FinalMesh's toolbar is located along the top of the screen.
When button is selected or checked it displayed with border, However, active buttons related to main edit state are displayed with sold background. This helps to identify current application state. Such buttons are Select, Move, Place, etc,

Selection Mode
Selection mode may be "Standard" and "Live", "Rectangular", "Circular". Learn more about navigation and selection.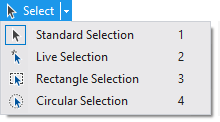 3D Editor

Click on one of these buttons to activate Move, Rotate, Scale, Move Pivot, Place tool.
Create Spline

Draw new spline in active 3d viewport. Learn More.
Axis and Coordinate System

Toggle individual axis ( X, Y, Z)to allow position, rotation, scale along these axis. Learn more.
Rendering

Render active viewport - render current window using built-in raytracer.
See Also