Mesh Toolbar



















In Mesh mode you may edit polygonal meshes, splines and FFD modifiers.
Selection Mode

Selection mode may be "Standard" and "Live", "Rectangular", "Circular". Learn more about navigation and selection.

When checked, you may select poinst or polygons hidden by more close polygons.
Points, Polygons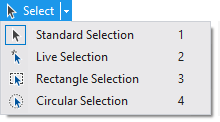 FinalMesh with this tab can work on polygon or point level:

.
3D Editor

Click on one of these buttons to activate
Axis and Coordinate System

Toggle individual axis ( X, Y, Z)to allow position, rotation, scale along these axis. Learn more.
Tools
Context Menu
There are few more tools available in right click menu:
See Also